22mar9:00 am10:00 amLiving in Creation - Global Live Meditation Series No.1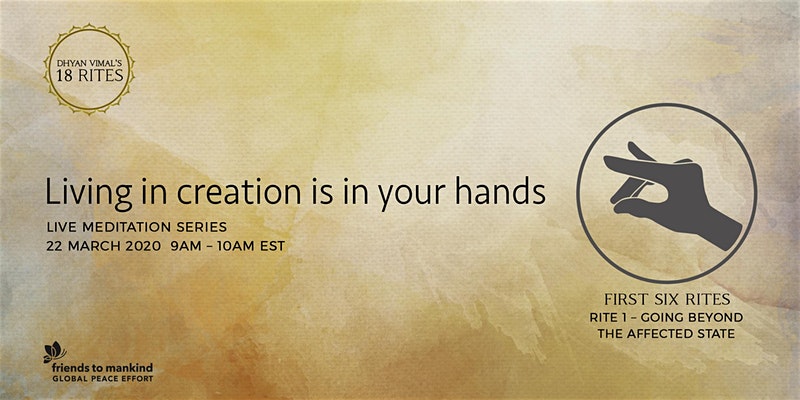 Event Details

There is a silent movement in the world for all to be well. Know you are one of them. When you meet another like you, tell them they are not alone.
~ Dhyan Vimal

Join us along with others around the world to live in creation through our global live meditation series!

We often live being affected and influenced by our environment, forgetting that we have the power to effect and shape life. Dhyan Vimal's 6 Rites of Creation are some of the most profound tools we can learn to consciously live and shape life. During this session, we will explore the First Rite – Going Beyond the Affected State, which will help us to remember our power to create.

ABOUT THE GLOBAL MEDITATION SERIES
Each week, we will come together to face our struggles, be empowered with tools that can help us wake up being a creator, and in that celebrate the possibility of what more life can be!

March 22: Rite 1 – Going Beyond the Affected State
March 29: Rite 2 – Being with What Is
April 5: Rite 3 – Guru Mantra, What you are Saying Yes and No to
April 12: Rite 4 – Going Beyond Laziness
April 19: Rite 5 – Jayam, Living in Victory
April 26: Rite 6 – Apranam, What you are Dedicating Yourself to

During this live session, you will:
– Be guided through a breathing exercise
– Learn the ABC-Method which helps you to be present
– Be introduced to 6 Rites of Creation
– Watch a short video lecture by Dhyan Vimal
– Learn the mudra (embodiment tool) for the First Rite
– Enter a 15-minute guided silent sitting to integrate the learning
We will end the session in an energized state with some celebration music!

When to join?
Date: Sunday, March 22
Time: 6am Vancouver / 9am New York / 2pm Stockholm / 9pm Kuala Lumpur
(Session entry closes 5 minutes after it begins)
Duration: 1 Hour

Register: https://www.eventbrite.com/e/living-in-creation-global-live-online-meditation-series-no1-tickets-100163126608

How to join?
Once you register, you will receive a confirmation email with a Zoom link for the Meditation. We recommend you to join from a computer in a quiet space where you can be with you.

Download the Zoom plugin in advance, and log in a few minutes early to settle in.

Welcome!
Time

(Sunday) 9:00 am - 10:00 am